EXCLUSIVE:

Employee says manager told her to stop marking cars for repair, as Ohio derailment brings hard look at industry's record of blocking safety rules
In leaked audio heard by the Guardian, a manager for one of the US's largest rail companies can be heard explaining to a former carman that they should stop tagging railcars for broken bearings. The manager says doing so delays other cargo.
The disclosure comes as federal agencies investigate the derailment in East Palestine, Ohio. A wheel-bearing failure was cited as the cause of the crash in a preliminary report released by the National Transportation Safety Board.
In late 2016, Stephanie Griffin, a former Union Pacific carman, went to her manager with concerns that she was getting pushback for tagging – or reporting for repair – railcars. Her manager told her it was OK to skip inspections.
Griffin asked if the manager could put that in writing. "That's weird," said the manager. "We have 56 other people who are not bad-ordering stuff out there. You're definitely not going to get in trouble for it."
Griffin said: "He refused to bad-order [mark for repair] cars for bad wheel bearings. My boss took issue with it because it increased our dwell time. When that happened, corporate offices would start berating management to release the cars."
Dwell time refers to the time a train spends at a scheduled stop without moving. "It's very obvious that management is not concerned with public safety, and only concerned with making their numbers look good," Griffin said.
Griffin also claimed she and other workers did not receive any formal training to inspect and repair railcars, and were left to learn from an older worker and figure the rest out from American Association of Railroads and Federal Railroad Administration handbooks. Griffin suggested all major railroad carriers operate similarly.
As part of her job at the railyard, Griffin was to inspect all railcars on inbound journeys for defects and put a tag on them to send the cars to the railroad yard repair shop. On outbound journeys, workers were supposed to check the cars' air brakes and make a final inspection. But, she said, management, at the behest of corporate, undermined workers' effectiveness on the job.
She said: "The regulation at the time stated that a wheel bearing was bad when it had 'visible seepage'. But that was very vague, and the bosses used that vagueness to their advantage. For me, it was whenever oil was visible on the bearing. For my bosses, they wanted actual droplets and proof it would leak on the ground.
"Most railroad workers are fighting against an entire system that only exists as a money-making apparatus to the wealthy. Those trains run through our towns, but they do not run next to rich folks' homes, nor next to our politicians' homes. This is a top-down problem."
A spokesperson for Union Pacific said in an email: "Nothing is more important than the safety of Union Pacific employees and the communities we serve. Union Pacific does not have the alleged recording and cannot comment on its authenticity."
It added: "Employees are expected and encouraged to report concerns, and have a number of avenues to do so, including a 24/7 anonymous hotline and they are firmly protected from retaliation."
RELATED: Here's the real reason the EPA doesn't want to test for toxins in East Palestine
The East Palestine derailment has prompted a wave of scrutiny into the railroad industry's record of deregulation and blocking safety rules.
Train-brake rules were rolled back under the Trump administration and have not been restored; hazardous material regulations were watered down at the behest of the railroad industry; and railroad workers have been decrying the safety impacts incited by years of staffing cuts, poor working conditions and neglect by railroad corporations in favor of Wall Street investors.
The rate of train derailments has increased over the past decade, with two derailments per every 1m miles traveled on the railroads, compared to 1.71 derailments in 2013. There were 818 derailments reported in 2022, with 447 train cars carrying hazardous materials either damaged or derailed.
"The railroads have opposed any government regulation on train length; they have sought waivers to eliminate having trained inspectors monitor railcars; and they have pushed back on the train crew staffing rule." said Brotherhood of Locomotive Engineers and Trainmen (Blet) national president Eddie Hall in a statement after the NTSB preliminary report on the East Palestine derailment.
"The railroads and their trade association the Association of American Railroads (AAR) employ armies of lobbyists on Capitol Hill who are there not to promote safety regulations but to slow the implementation of federal safety regulations – or attempt to eliminate them altogether."
Edward Wytkind, who served as president of the Transportation Trades Department (TTD) at the AFL-CIO, which represents the unions in the railroad industry, said that throughout his 25 years at the TTD, the railroad industry blocked all attempts to pass legislation or advance regulation on safety.
"From attempts to address worker fatigue, lack of coherent mandatory safety plans, increasing transparency to the public and first responders about what trains are carrying, the dangers of such long trains, or establishing floors for minimum train crew, the railroads blocked everything," said Wytkind.
"It took a horrific derailment in Ohio that is now raising major public health alarms to get the public to understand this is a very important industry. Obviously our economy depends on it, but it's also a dangerous industry that needs to be regulated."
A signal maintainer on the railroads who requested to remain anonymous for fear of retaliation said that in recent years staff has been cut and the region signal maintainers are forced to cover has been extended as a result of "precision scheduled railroading", a cost-cutting system that has resulted in class 1 railroads cutting their workforce by 30% since 2016.
"We've lost a signal maintainer, relief maintainer, and they've extended from 80 miles to over 100 miles of tracks," they said. "We're overworked. They keep adding more tasks for us to do and cover and it's getting to where all we're doing is just testing and not doing much maintenance any more."
They said they have worked hundreds of hours of overtime so far this year because of short staffing and the high workloads, and this has created safety concerns, because there is no time to keep up with the workloads or properly train newer employees.
"There's a big opportunity to miss and overlook things. There is a big opportunity for something to fail. Missed switches, something with crossings being overlooked … could cause train derailments. Or people could get hit at railroad crossings," the employee added.
"There could be many opportunities for catastrophic failure between train departments that are shorthanded, maintenance workers that are shorthanded and overworked, the signal department that's overworked and understaffed.
"It's just an opportunity for a big failure to happen. We don't have as many eyes or as many hands on like we used to."
Jeff Kurtz, a retired locomotive engineer of 40 years in Iowa, said the railroad industry talking points on safety in response to the East Palestine derailment have been misleading, as the industry has trended toward adding several more railcars to trains, making them much longer, which can make derailments more damaging when they do occur. This trend has been pursued to further cut costs and increase efficiency, despite safety concerns.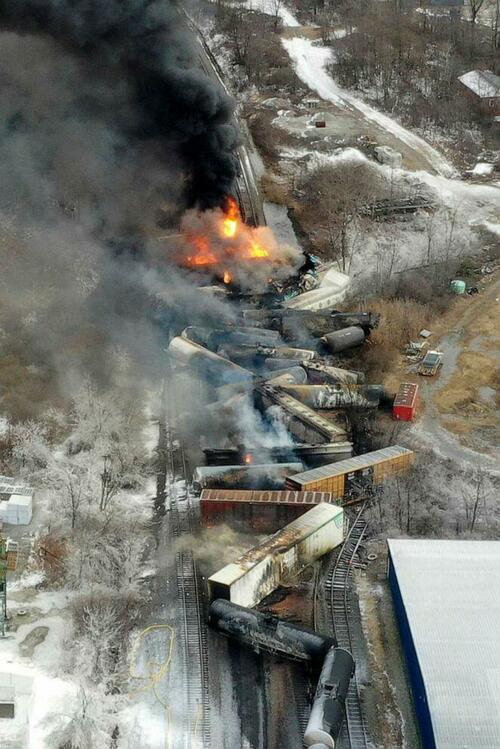 "What most people aren't talking about that would have either mitigated a lot of the damage, and it may have prevented the derailment, is reducing the size of these trains," said Kurtz. "Because the in-train forces are increased exponentially when a train's length and weight is increased, the chance of derailments and the increase in damage is exponentially increased."
The size of the train that derailed in East Palestine, Ohio was 150 cars, more than twice the average length of trains operated by major railroads from 2008 to 2017. There is currently no limit imposed by the Federal Railroad Administration on train length. The industry has dismissed safety concerns on the issue.
"A derailment with a 5,000-ton train with [a small amount of] hazardous material is a whole different animal than a derailment of an 18,000-ton train loaded with hazardous material. Plus, a long, heavy train is easier to derail," Kurtz added.
"Secretary [Pete] Buttigieg said that there are about 1,000 derailments a year. If we let the carriers run these monster trains loaded with hazardous material, cut the number of derailments to 300 a year, but blow up a town or city every other year: is that acceptable?"
Written by Michael Sainato for The Guardian ~ March 3, 2022
FAIR USE NOTICE: This site contains copyrighted material the use of which has not always been specifically authorized by the copyright owner. We are making such material available in our efforts to advance understanding of environmental, political, human rights, economic, democracy, scientific, and social justice issues, etc. We believe this constitutes a 'fair use' of any such copyrighted material as provided for in section 107 of the US Copyright Law. In accordance with Title 17 U. S. C. Section 107, the material on this site is distributed without profit to those who have expressed a prior interest in receiving the included information for research and educational purposes. For more information go to:

http://www.law.cornell.edu/uscode/17/107.shtml