FDA set to authorize updated COVID-19 booster shots for newer Omicron strains without completed human tests
New COVID-19 booster shots are set to be authorized this week by the Food and Drug Administration (FDA) and will be available to most Americans before human testing has even been completed.
The shots have been modified to target the latest Omicron variant, but won't have finished testing in humans when the FDA makes the decision. Instead, the FDA is relying on data from other sources – like research in mice and older vaccines, the Wall Street Journal reported… (Continue to full article)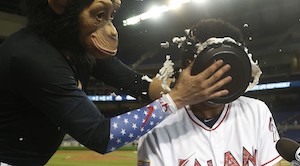 Trifecta! Man Snags Bat Stew Flu, Monkeypox, and HIV in One Bromantic Weekend
The 36-year-old man told doctors he'd had two doses of the Pfizer "vaccine" (which we know doesn't keep people from contracting the Honk Kong Fluey) and did not use condoms (which we know can prevent HIV) while enjoying a sex-fest in Spain June 16–20. The Journal of Infection reported that the "patient tested positive for HIV-1 and, given his preserved CD4+ lymphocyte count, we could assume that the infection was relatively recent."
It was also the second time the double-vaxxed man had contracted COVID-19, the first being in January 2022. He tested negative for HIV in September 2021 and positive for syphilis in 2019.
I'll Be Seeing You in All the Old, Familiar Places… (Continue to full article)