NOTE: It is so interesting how we have to draw all of the following posts from a Foreign News Publication. ~ Editor
Biden 'finalizes screeching migrant policy U-turn to fend off illegal aliens in Trump-style plans he decried in 2020'
Title 42 expires TOMORROW and thousands more stream over the southern border
Joe Biden has finalized Trump-style plans to stop illegal migrants flooding into the U.S less than 48 hours before Title 42 expires – and as thousands more are seen streaming across the border from Mexico.
The policy, as seen by CBS News, is almost identical to a law which had been introduced by the Trump administration – and which was decried by Biden at the time. It required migrants to request refugee status in another country, such as Mexico, during their journey to the southern border – before crossing into the United States.
Those who fail to follow the criteria are liable to be deported… (Continue to full article)
'This entire operation is a sad joke!' Border Patrol Union tears into DHS for TELLING migrants and smugglers where and when it'll 'conduct targeted enforcement'… two days before Title 42 expires
Late on Monday night the DHS announced that ICE would be conducting a targeted enforcement operation in El Paso, Texas. The operation coincides with surge of thousands of migrants crossing the southern border – but those who crossed illegally will now have time to get make a getaway.
'Nothing like publicly announcing that dangerous people will be arrested, while warning them ahead of time exactly where to run and hide to avoid arrest. This entire operation is a sad joke – another pandering PR stunt. Serious law enforcement leaders don't behave this way,' the Border Patrol Union – NBPC tweeted on Monday night.
Strategically speaking, the announcing of such information makes little sense with those seeking to evade capture by the authorities now given advance warning. It comes just as Border Patrol revealed how its agents caught 26,000 migrants in just three days.. (Continue to full article)
26,382 migrant encounters and 7,399 gotaways in just three days
US-Mexico Border ALREADY sees surge in crossers – with up to 13,000 expected each day when Title 42 ends on Thursday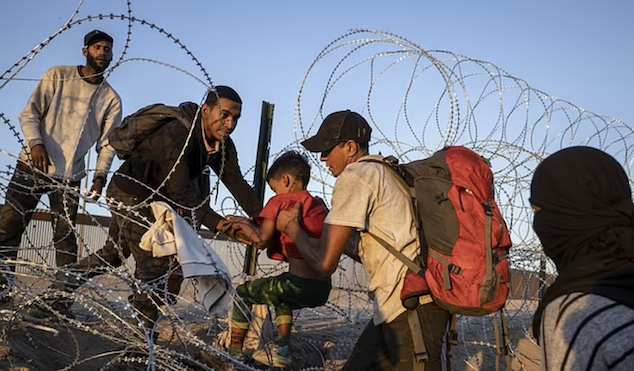 Border crossings are already spiking in the days leading up to the end of Title 42 with Customs and Border Protection (CBP) apprehending more than 26,000 migrants in just 72 hours. The last three days saw an average of 8,794 migrant apprehensions per day, according to figures released by CBP Chief Raul Ortiz. This is a staggering unprecedented figure that is only expected to grow in coming days with Title 42 set to expire on Thursday
Currently, the average number of migrants crossing the southern border each day is 7,700. But the Biden administration estimates that the number could increase to 13,000 every day once Title 42 is no longer in use. Other external estimates have put that number even higher.
Smugglers are encouraging migrants to head for the border…. (Continue to full article)
Title 42 is ending on Thursday – so what will the border look like in a post-pandemic world as internal estimates warn there are at least 10,000 migrants waiting to cross the second the measure expires
Title 42 is finally coming to an end on Thursday, May 11 and there are at least 10,000 migrants waiting in Mexico to immediately cross the U.S. southern border once the policy is no longer in use.
The public health measure was employed in March 2020 by then-President Donald Trump to quell migration during the COVID-19 pandemic by blocking those caught at those at the border from seeking asylum.
Migrants could be rapidly expelled back to Mexico, and since it began Title 42 has been used more than 2.7 million times. In March more than 191,00 migrants were encountered at the border, and many expect crossings to rise from 7,500 to 13,000 a day when Title 42 ends… (Continue to full article)
Drone video shows huge line of hundreds of migrants who illegally crossed the border into Brownsville, Texas, days before the end of Title 42
A huge line of consisting of hundreds of migrants who crossed into the U.S. illegally from Mexico into Brownsville, Texas was caught on camera on Sunday evening.
A line could best be seen from the air as footage from Fox News' drone tea, attempted to capture the enormity of the as it snaked off into the distance.
The great majority of the migrants looked to be single adults. Many of those waiting in line did not appear to have baggage of any kind with most simply holding a plastic bag containing important documents.
Although it is not clear exactly where the migrants had arrived from, over the last two weeks there has been a surge of Venezuelan migrants through South Texas, particularly in and around Brownsville. The reasons for the surge are unclear.
On Friday U.S. Homeland Security Secretary Alejandro Mayorkas noted that Mexico has agreed week to continue taking back Venezuelans who enter the U.S. illegally even after asylum restrictions end Thursday, along with Cubans, Haitians and Nicaraguans… (Continue to full article)
Border crisis laid bare: Patrol chief reveals force seized 54lbs of fentanyl, 19lbs of heroin and 246lbs of meth and arrested 50,000 illegal aliens last week
US Border Patrol agents made more than 50,000 arrests in one week – with over 1400lbs of drugs being recovered.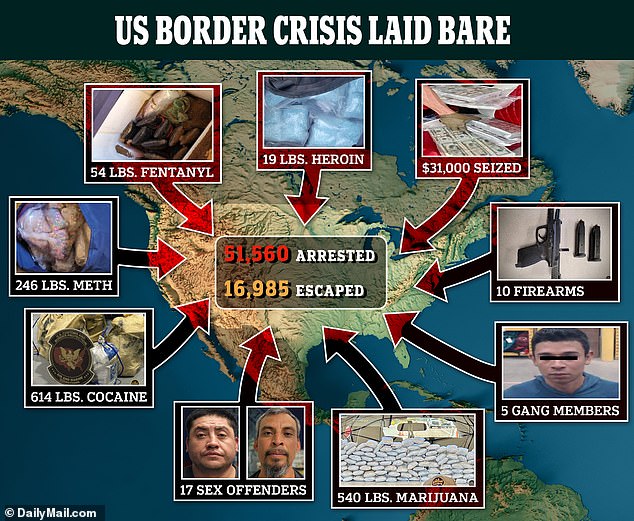 Chief Raul Ortiz shared images of the latest busts on to his Twitter page and laid bare the ongoing crisis at the borders.
On Friday he said: 'Week in review. 1 agent assaulted, 51,560 apprehensions, 16,985 approx gotaways, $31,000 seized, 614lbs cocaine, 540lbs marijuana, 246lbs meth, 54lbs fentanyl, 19lbs heroin, 10 firearms, 17 sex offenders, 5 gang members. Impressive work!'
Images attached by the Chief shows large quantities of drugs that have been bundled together as well a piles of dollar bills.
According to the Chief, these statistics are for the entire border patrol, including the southern, northern and coastal borders… (Continue to full article)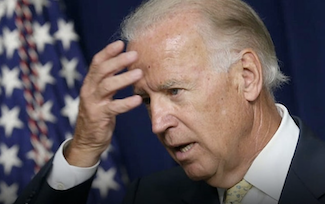 ALERT: Biden vows to veto House GOP bill aimed at securing border
Biden would veto a House GOP bill that aims to secure our southern border by restricting asylum and finish building Trump's border wall, the White House said Monday.
Republicans are looking to capitalize as immigration trouble surges into a national spotlight this week with the ending of COVID-19 restrictions that allowed border authorities to quickly return many migrants who crossed the border illegally.
GOP lawmkers aim to vote on their Secure the Border Act on Thursday — the same day the emergency expulsion powers expire. Officials have already seen an increase of illegals at the U.S.-Mexico border and are bracing for more.
The legislation represents the GOP's first major immigration policy proposal since the Trump era, when those who wanted to abide by the nation's immigration laws controlled the White House. The 213-page bill resurrects a slew of former President Donald Trump's policies, such as building barriers along hundreds of miles of border country…. (Continue to full article)