For the better part of four generations, Americans have grown into adulthood seemingly afloat upon an ocean of acronyms.
That's especially true when it comes to our federal government.
News from Washington is filled with letters denoting governmental entities — DOJ, FBI, CIA… CDC, OMB — and the one agency that expects to hear directly from you every April 15 — the IRS.
What most of us find especially taxing is the explosion of acronyms that corresponds with the exponential growth of government.
Bill Clinton may have said "The Era of Big Government is over" in early 1995 but 9/11, the Age of Obama, and the "Pandemic Panic" ensured that poll-tested phrase would end up in history's wastebasket.
More resilient and reliable is the humor of the late Ronald Reagan. Our 40th president, speaking at a 1986 press conference, famously quipped, "The nine most terrifying words in the English language are: 'I'm from the government, and I'm here to help.'"
Sure enough, there's one federal agency that is supposed to answer urgent calls for assistance requiring the resources of the feds.
It answers to the acronym FEMA — the Federal Emergency Management Agency. As the name implies it is supposed to assist states, cities, towns — and wherever afflicted Americans can be found in times of peril.
But like the Reagan observation of almost 40 years ago, a recent national emergency did not result in an urgent response from Uncle Sam — and unlike the Gipper's anecdote — there's nothing funny about it.
On the first Friday night in February, a Norfolk Southern train pulling close to 150 freight cars derailed in East Palestine, Ohio.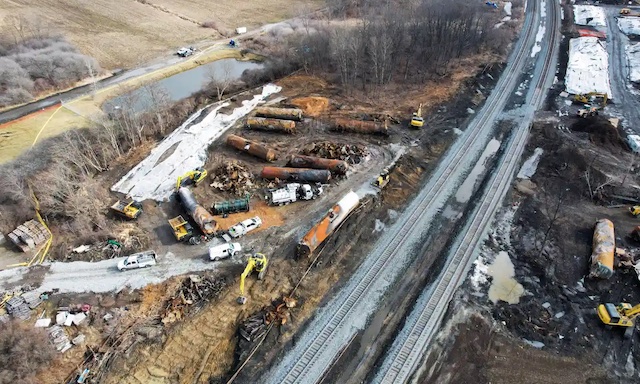 Twenty of those cars were carrying hazardous materials, and five of them were filled with vinyl chloride. That's the chemical compound associated with increased risk for liver cancer, and other forms of that disease, according to another federally funded entity, the National Cancer Institute — also known by its acronym, NCI.
Given the dangers, you would think that an SOS would emanate from that eastern Ohio town — and also from affected Pennsylvanians, who live just across the nearby state line.
In fact, that distress call did go out — but for some reason, the bureaucrats on the banks of the Potomac weren't especially keen on offering a quick response.
Instead, those "acronym-bearing swamp dwellers" embraced an anachronism — the old advertising slogan of a bygone era: "Long Distance is the next best thing to being there."
So with official Washington content to "phone it in," state and local officials — along with railroad representatives — worked over that first February weekend to contain a catastrophe that soon grew even more catastrophic.
Officials on the ground observed a "drastic temperature change" in one of the rail cars carrying vinyl chloride, and that prompted a drastic decision.
Fearing a massive explosion that could scatter shrapnel over a mile-wide area, authorities opted to evacuate East Palestine on Sunday evening, then initiate a "controlled release" of the toxic chemical the following day.
When that "vent and burn" began in the late afternoon of Monday, Feb. 6, a mushroom cloud soon took shape, prompting one official to comment that the small town had been "nuked."
Certainly it made the situation even more politically "radioactive" for elected officials, but it was much worse for residents who were eventually allowed — and encouraged — to return to their homes.
They found pets and livestock sick and dying…and the water in nearby creeks shimmering with an ominous rainbow hue.
Even the air that they breathed concerned the townspeople, as officials explained that the evacuation was required since more than vinyl chloride was released.
Phosgene and hydrogen chloride fumes also escaped.
Phosgene was used as a chemical weapon in World War I — a highly toxic gas that causes vomiting and breathing difficulties… and some area residents began suffering from those symptoms long after authorities had given the "all clear."
Still unclear is Washington's lack of motivation to provide a "muscular response."
Is it because East Palestine, Ohio, is not "diverse" enough?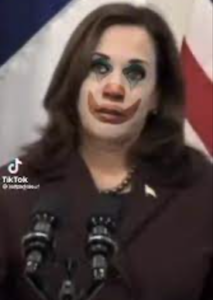 Recall that Vice President Harris initially suggested that post-Hurricane Ian aid to Florida be based on "equity, and understanding that not everyone starts out at the same place… sometimes we have to take into account those disparities."
Or could it be the disparity between the 2020 vote totals in East Palestine? The Trump/Pence ticket received 906 more votes than Biden/Harris… a margin far greater than the 641 ballots cast in favor of Joe and Kamala.
What casts a political shadow on all of this is the fact that FEMA finally decided to show up in East Palestine… as soon as Donald Trump announced that he would personally visit on Feb. 22.
Which proves that the acronym giving Joe Biden a "sinking feeling" is spelled "GOP."
Written by J.D. Hayworth for The West Valley View ~ March 3, 2023
FAIR USE NOTICE: This site contains copyrighted material the use of which has not always been specifically authorized by the copyright owner. We are making such material available in our efforts to advance understanding of environmental, political, human rights, economic, democracy, scientific, and social justice issues, etc. We believe this constitutes a 'fair use' of any such copyrighted material as provided for in section 107 of the US Copyright Law. In accordance with Title 17 U. S. C. Section 107, the material on this site is distributed without profit to those who have expressed a prior interest in receiving the included information for research and educational purposes. For more information go to:

http://www.law.cornell.edu/uscode/17/107.shtml