MEMORIAL DAY 2021: In Memory of my Lost Brothers and Sisters.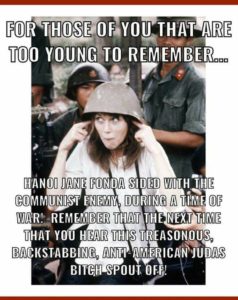 Jane Fonda resumes her performance as an historical revisionist on a subject that keeps coming back to haunt her: the Vietnam War.
Fonda's latest foray into her past as a useful propaganda tool for the communists has reared its ugly narrative all over again on the occasion of the thespian accepting a "Lifetime Achievement" award at the Traverse City Film Festival this summer. Michael Moore, the king of propaganda, added to the publicity swirl by heaping accolades on the actress as he bestowed the award.
Jane basked in the glow of her safe audience at the festival — taking advantage of the occasion to screen the sanitized version of her life in the recently released HBO documentary, Jane Fonda in Five Acts.
At the event, gullible liberals made up most of her audience embracing the activist's "proud" anti-war participation from the 1970s, but not everyone proved to be a fawning fan. Dozens of Vietnam veterans showed up to protest Fonda's blatantly false wartime assertions including her attempts to delegitimize and demonize American combat soldiers (which has proven posthumously in the case of more than 58,000 veterans).
Veterans find many of her actions unforgivable, even 46 years later.
In 1973, Fonda called returning American POWs "liars and traitors" for telling the truth about their systematic torture and the killing of their comrades in captivity. Fonda's cruel reception for returning POWs — many of whom suffered captivity in cages, years in isolation and sadistic beatings — failed to make the final edit in the appropriately named documentary, Five Acts. The point of the project was to romanticize Fonda's life — and to that end many viewers would never learn of the irreparable harm she has caused to others. Most Americans will never know Fonda earned the moniker, "Hanoi Jane," because of her self-initiated broadcasts — which included labeling American soldiers "war criminals" — on Radio Hanoi. She succeeded in demoralizing our troops and acting as a "pro-victory" cheerleader for the communists.
"I am proud I went to Vietnam when I did," says Jane who hasn't veered much from her script since the early 1970s. She has even becomes philosophical about the war to further solidify her good intentions. "The U.S. loss represented our nation's chance for redemption," says Fonda failing to mention redemption was in short supply in the Gulag of reeducation camps established by Ho Chi Minh and his army of mass murderers.
Worse was yet to come. "And the communist victory symbolizes hope for the planet," says Jane who has a difficult time floating this theory past the 100,000s tortured and murdered by the communists in the aftermath of war. This includes men, women, and children.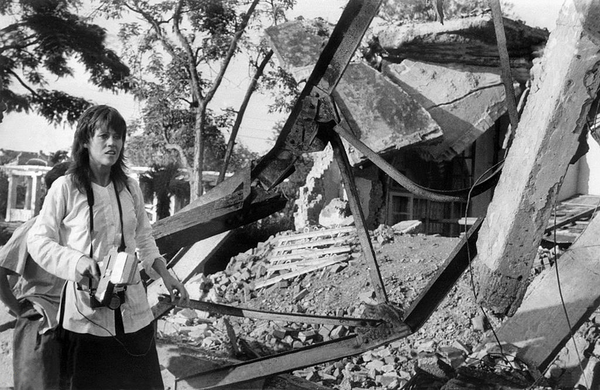 Veterans are appalled at the prospect of a new generation of young Americans learning about their history by peering through a lens carefully crafted by Hollywood.
Their fears are well founded. Owen Gleiberman is one such impressionable reporter who writes a gushing review of Five Acts, in the entertainment publication, Variety. "Then (she) became the rare celebrity entertainer brave enough to disengage from the system to pursue her political passions," he writes.
"She was dissed for going to Hanoi, but the meaning of that crusade was debated all over the world — and if that's not successful activism, I don't know what is." He does have a point about Jane making her treasonous presence known — from Hanoi — to the far reaches of the world.
Many outraged veterans refuse to allow Fonda to serve as a filter for their actions and have pushed back against her wave of propaganda, including her self-serving biography, My Life So Far.
Dexter Lehtinen is one of the most qualified veterans to refute Fonda's attacks on American servicemen as war criminals, having served more than two years in combat in the most treacherous terrain: He was severely wounded in the conflict and continued to serve his country as a U.S. attorney general and Florida state senator.
Lehtinen employs his legal mind to refute the "pseudo apology" offered by Fonda in her multimedia campaign: he points out the futility of her singling out one (repeat one) treacherous action from the multitude of egregious actions committed against soldiers, and now veterans. "She expressed regret for one photograph," he writes referring to the infamous photo of Jane smiling and sitting behind an anti-aircraft gun in North Vietnam. "But remains proud of her Radio Hanoi broadcasts, her efforts to achieve a communist victory, and her attacks on American servicemen as war criminals" adds Lehtinen in reviewing the biography, My Life So Far. "She never uses the word 'apology'."
With the advantage of hindsight, Fonda does extrapolate on her "regret" saying: "That two-minute lapse of sanity will haunt me until I die."
Fonda's two-minute timeline for her lapse in judgment has led Lehtinen to write: "Fonda has always lived in a kind of Wonderland — where American POWs are liars and communist tyrants are honorable men," he writes. "The Vietnam war only shows that, unlike Alice, Jane Fonda has yet to emerge from Wonderland."
It appears Jane's non-apology is not accepted.
Written by Robyn Dolgin for the American Thinker ~ August 13, 2018.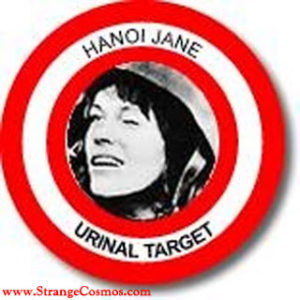 FAIR USE NOTICE:</span This site contains copyrighted material the use of which has not always been specifically authorized by the copyright owner. We are making such material available in our efforts to advance understanding of environmental, political, human rights, economic, democracy, scientific, and social justice issues, etc. We believe this constitutes a 'fair use' of any such copyrighted material as provided for in section 107 of the US Copyright Law. In accordance with Title 17 U. S. C. Section 107, the material on this site is distributed without profit to those who have expressed a prior interest in receiving the included information for research and educational purposes. For more information go to: http://www.law.cornell.edu/uscode/17/107.shtml