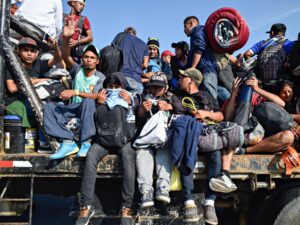 (July 4, 2023) – Border security is national security – not just at the long stretches between ports of entry, but at the legal crossing points as well.
Andrew Arthur, a Center for Immigration Studies fellow with long experience at the intersection of immigration law and national security, has written a piece on the security implications of the Biden administration's CBP One entry scheme for inadmissible aliens.
The piece, titled "The Security Metric that Highlights the Illegality and Dangers of Biden's CBP One Port-Entry Scheme", looks at the National Defense Authorization Act for Fiscal Year 2017 (NDAA 2017) and specifically at the "Border Security Metrics" required by the law. The Customs and Border Protection (CBP) agency within the Department of Homeland Security is required to develop metrics to measure the effectiveness of security at ports of entry.
The requirement for reporting these metrics underlines Congress's concern about the potential threats posed by inadmissible aliens – foreigners arriving at inspection points without visas or other authorization to enter the United States –and clearly indicates that such individuals should not be allowed to enter the country.
What's more, the law requires that if such inadmissible aliens claim asylum that they be detained pending the resolution of their cases.
Nonetheless, the Biden administration has implemented a scheme by which foreign nationals can schedule interviews at Southwest border ports of entry using the CBP One mobile app. Arthur raises concerns about the lack of transparency surrounding the process and the potential release of inadmissible aliens into the country.
Arthur concludes with this:
The White House is scamming the American people by claiming that inadmissible aliens who schedule interview appointments at the ports are "seeking to enter the United States lawfully". They're not, and NDAA 2017 wouldn't consider their subsequent entries a national security metric if they were. What's worse than the administration's lies, however, are the security risks they are exposing to country to.
Written by Andrew R. Arthur for Center for Immigration Studies ~ June 20, 2023
FAIR USE NOTICE: This site contains copyrighted material the use of which has not always been specifically authorized by the copyright owner. We are making such material available in our efforts to advance understanding of environmental, political, human rights, economic, democracy, scientific, and social justice issues, etc. We believe this constitutes a 'fair use' of any such copyrighted material as provided for in section 107 of the US Copyright Law. In accordance with Title 17 U. S. C. Section 107, the material on this site is distributed without profit to those who have expressed a prior interest in receiving the included information for research and educational purposes. For more information go to:

http://www.law.cornell.edu/uscode/17/107.shtml