Republicans must be "hammering" away at illegal immigration as "economic warfare" against working – and middle-class Americans, Sen. J.D. Vance (R-OH) told Breitbart News.
In an exclusive interview with SiriusXM Patriot's Breitbart News, Vance called on Republicans to discuss illegal immigration as a fixture of "the cheap labor lobby" which seeks to inflate the United States labor market to drive down wages and employ an underclass of cheaper foreign workers with little-to-no bargaining power.
"Republicans cannot stop hammering this stuff … we cannot ignore the cheap labor lobby is why we have this problem," Vance said of the surge of illegal immigration that has occurred on Biden's watch.
In addition to driving down wages and increasing foreign competition against Americans in the labor market, Vance said illegal immigration has a huge impact on housing prices as more demand means higher costs and bigger payouts for real estate developers and landlords.
"Think of the effects that this has on working Americans' wages to have 10 million more people who shouldn't be here competing for jobs," Vance said. "Think about what this does for housing prices, when you have to house 10 million people that shouldn't be here, that drives up the costs of housing when interest rates are already through the roof."
"This is economic warfare and theft of the American dream from American citizens, that is the big problem here and that's why we have to keep fighting it," he continued.
Vance echoed that sentiment during an interview with Breitbart News Editor-in-Chief Alex Marlow on the Charlie Kirk Show, detailing how Americans looking to buy their first home or move into a new property are put at a disadvantage as they are forced to compete for housing against a growing foreign population.
"If you've gone to a hospital or emergency room and you've seen the wait times be way too long because there are a number of illegal aliens getting healthcare, you're seeing the effects of Ohio being a border state," Vance said.
"If you've tried to buy a house and you've seen the effects of skyrocketing housing costs and interest rates, you're seeing the effects of Ohio as a border state because when you bring in 10 million people illegally, you've got to house them somewhere, and houses that should go to American citizens right now are going to people who should not be here in the first place," he continued.
Vance said President Joe Biden and his Department of Homeland Security (DHS) Secretary Alejandro Mayorkas are "not even hiding" their intended goal anymore, noting remarks made last week where the agency head seemingly admitted that illegal immigration is a boon for business.
Meanwhile, labor market data has shown that Biden is growing the U.S. workforce by funneling millions of border crossers, illegal aliens, foreign visa workers, and legal immigrants into American jobs, while leaving millions of working – and middle-class Americans on the sidelines.
In the fourth quarter of 2022, for example, close to two million fewer native-born Americans were working in jobs compared to the same time in 2019, while two million foreign-born workers were added to the workforce.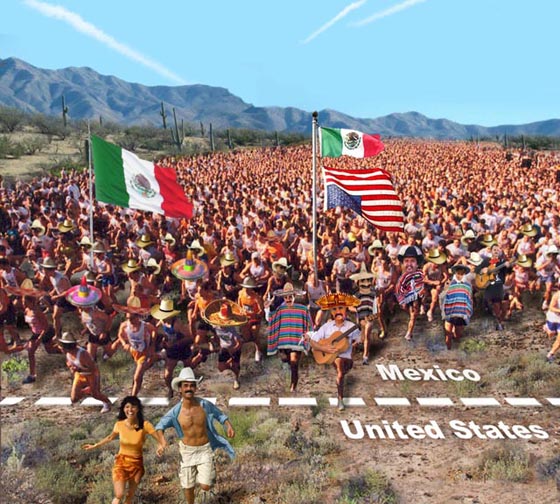 A flooded labor market from mass immigration has had a devastating impact on working – and middle-class Americans, while redistributing billions in wealth to the top one percent of earners and big business. While creating an economy that tilts in favor of employers, the mass immigration economic model has helped keep wages stagnant for decades.
Written by John Binder for Breitbart ~ May 14, 2023
FAIR USE NOTICE: This site contains copyrighted material the use of which has not always been specifically authorized by the copyright owner. We are making such material available in our efforts to advance understanding of environmental, political, human rights, economic, democracy, scientific, and social justice issues, etc. We believe this constitutes a 'fair use' of any such copyrighted material as provided for in section 107 of the US Copyright Law. In accordance with Title 17 U. S. C. Section 107, the material on this site is distributed without profit to those who have expressed a prior interest in receiving the included information for research and educational purposes. For more information go to:

http://www.law.cornell.edu/uscode/17/107.shtml