The dystopian science fiction film has become a little too familiar.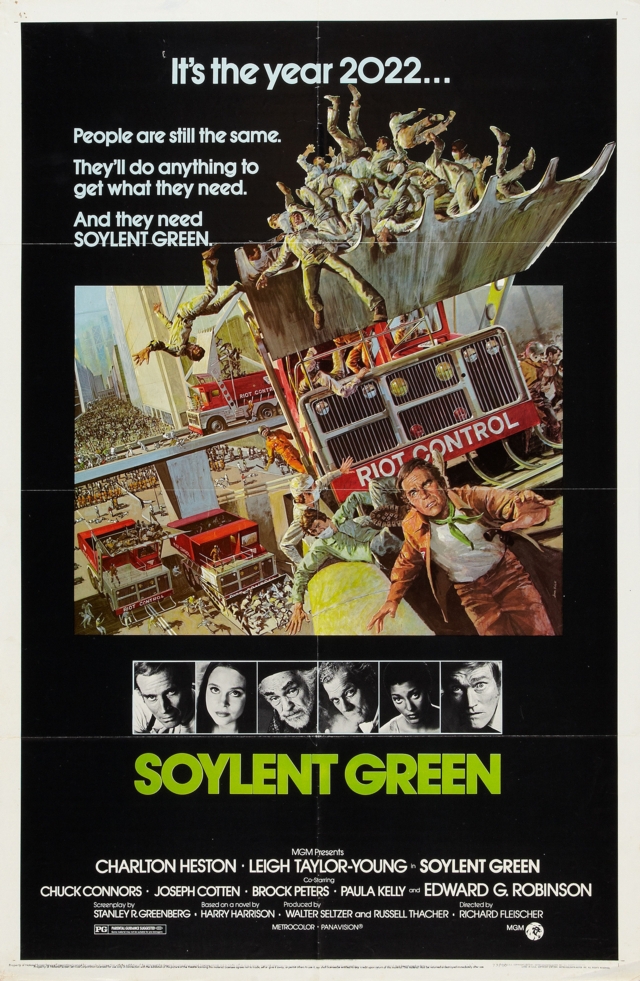 For membership in the pantheon of iconic, climactic movie lines, you'll find a few obvious contenders, like Rhett Butler's "Frankly, my dear, I don't give a damn" and Rick Blaine's "Louis, I think this is the beginning of a beautiful friendship." But few can match Charlton Heston's immortal warning at the end of a film released fifty years ago, Soylent Green. (If you know it already, or even if you don't . . . read on!)
Soylent Green takes place in a dystopian 2022 (ouch!) where the wealthy hoard most of the resources and the poor are in a terrible state of food scarcity. It's so hopeless that people can check out permanently at their local euthanasia center. In the midst of this, police detective Richard Thorn begins to tug on the threads of a vast, horrifying conspiracy. The film had its roots in the 1966 novel Make Room! Make Room! by Harry Harrison. Throughout his long career, Harrison would become a beloved figure in the science fiction community. Perhaps best known as the writer of two popular series of humorous SF novels (Bill, the Galactic Hero and The Stainless Steel Rat), Harrison also earned many fans for his 1950s/1960s run as the primary writer of the newspaper comic strip Flash Gordon. Make Room!, however, showed his serious side. The novel was originally serialized in Britain's Impulse magazine and dealt with two very real concerns: overpopulation and scarce resources being hoarded by the wealthy.
In writing Make Room! Make Room!, Harrison joined a lineage of writers who had dealt with ecological and environmental concerns. Though themes of nature and preservation went back even earlier than 19th century thought leaders like Emerson and Thoreau, a real movement surrounding those ideas grew rapidly in the 1960s. One of the catalysts was Rachel Carson's seminal 1962 work, Silent Spring. The book decried the use of pesticides and had several lasting effects, including the banning of DDT and ultimately the creation of the Environmental Protection Agency (as proposed by then-president Richard Nixon in 1970). That movement also brought new attention to older works like Mary Shelley's 1826 post-plague novel The Last Man and George Rippey Stewart's 1949 work, Earth Abides (which was a major inspiration for Stephen King's The Stand); both books reflected changes to the environment that followed a drastic population loss.
In the wake of Silent Spring, science fiction experienced a surge of new work expressing environmental concerns. Whereas earlier works like 1954's Them! and Godzilla referenced the dangers that radiation could pose, a number of pieces in the '60s and after put their ecological messages front and center. Among those were Frank Herbert's 1965 classic Dune, the 1972 film Silent Running (which directly addressed deforestation and the problems it posed to the planet), and, of course, Make Room! Make Room! When MGM was making their deal with Harrison for the rights to the book, they essentially boxed him out of creative control in a way that he was not aware of at the time; according to writer Jeff Stafford at Turner Classic Movies, this left Harrison "fifty percent" pleased with the final outcome of the film.
The eventual film adaptation from screenwriter Stanley R. Greenberg and director Richard Fleischer shared many of the themes of the book, and even some events and character similarities, but it is, like many page-to-screen transitions, quite different. Fleischer, who had juggled crime and sci-fi in his career with films like Compulsion and Fantastic Voyage, ably merged the two as Heston's Richard Thorn discovers a vast conspiracy involving murder and corporate secrets in the near future. The poor largely subsist on wafers branded as Soylent Red, Soylent Yellow, and Solyent Green. Near the end, Thorn discovers the horrible truth. Since the ocean's plankton is dying off, Soylent Corporation is actually making Soylent Green from . . . well, we'll let Mr. Heston tell you.
Classic Soylent Green scene…
While it echoes the earlier "To Serve Man! It's a cookbook!" from the 24th episode of The Twilight Zone's third season, the intent here is much different. "To Serve Man" positions humans as unwitting victims of a predatory alien race that promised utopia. Here, the poor are victims of an ultra-wealthy class who hoard resources to the point that the needy are basically forced to consume themselves. That kind of crushing darkness is a staple in dystopian fiction, but Soylent Green really drives home that horror.
The film received mixed reviews from conventional critical circles, but in the science-fiction community, it was lavished with praise. It took Best Science Fiction Film of the Year from both the Saturn Awards and the Academy of Science Fiction, Fantasy, and Horror Films. It was nominated for a Hugo for Best Film of the Year, and took screenplay honors from both the Academy of Science Fiction, Fantasy, and Horror Films and the Nebula Awards. Heston's line "Soylent Green is people!" became iconic.
Today, Soylent Green is considered a classic example of dystopian sci-fi cinema, although it's not as widely seen as such '70s cousins as Logan's Run. It's possibly most famous for Heston's climactic lines, which has (rather strangely) even been quoted for humorous effect in other films and on Saturday Night Live. But when you consider a modern world where income inequality is on the rise, the central ideas of Soylent Green may not seem humorous, but rather unsettlingly familiar.
Written by Troy Brownfield for The Saturday Evening Post ~ April 21, 2023
FAIR USE NOTICE: This site contains copyrighted material the use of which has not always been specifically authorized by the copyright owner. We are making such material available in our efforts to advance understanding of environmental, political, human rights, economic, democracy, scientific, and social justice issues, etc. We believe this constitutes a 'fair use' of any such copyrighted material as provided for in section 107 of the US Copyright Law. In accordance with Title 17 U. S. C. Section 107, the material on this site is distributed without profit to those who have expressed a prior interest in receiving the included information for research and educational purposes. For more information go to:

http://www.law.cornell.edu/uscode/17/107.shtml