Livid parents force woke teachers to pull it from shelves in US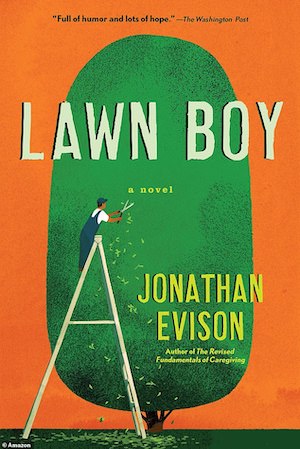 The author of a book which was pulled from schools across the US over its description of a sex act between two 10-year-old boys has said it was never intended for young children.
Lawn Boy, a 2018 novel by Jonathan Evison, drew national attention in 2021 after it was found in school libraries despite scenes that parents labeled 'pedophilic'.
School districts in at least 12 states removed the book from libraries because of the controversial passages.
The passages included descriptions of a sexual encounter between two fourth-grade boys at a church youth-group meeting.
Evison told The Washington Post the book was never intended to be placed in school libraries.
His comments appeared in a Post article which said schools banned the book because 'a mom wrongly said the book showed pedophilia'.
The article referred to comments by a mother from Virginia who wrongly told a school board meeting the book depicts a sexual encounter between a man and a ten-year-old boy.
The Post reported that the incorrect comment '[spawned] pedophilia claims in nearly a dozen school districts'.
Many parents were nevertheless shocked by the lurid depiction of an encounter between two boys and some school districts pulled the book.
Brandi Burkman, 43, told a school board meeting in Texas in September 2021: 'What sort of diversity are you intending to teach my child with material like this? Who normalizes sex acts between fourth-graders?
'I'll tell you who. Pedophiles.'
The Post reported that an analysis found Lawn Boy's use in libraries was challenges in at least 35 school districts. Districts in 12 states removed the book.
Some 63 percent of those later returned the books to shelves, while at least four maintained the bans.
Some school districts may have selected the book for their libraries after the American Library Association gave it an award in 2019 for its 'special appeal to young adults'.
A synopsis of the book notes: 'Lawn Boy is an important, entertaining, and completely winning novel about social class distinctions, about overcoming cultural discrimination, and about standing up for oneself.'
Evison has accepted it could be interpreted as 'too profane' but insisted the controversial passages were not intended to 'glorify the experience'.
He questioned whether some parents who complained 'don't like a marginalized, non-white, non-cisgender character trying to be comfortable and find their place in the culture'.
'I think the end game of these people is they want to keep the status quo, and the best way to do that is not to have these stories told,' he said.
Evison also said sales of the paperback edition in 2022 were double those for its first print run.
The saga over Lawn Boy came amid fierce debate across the United States about books in school libraries that touch on themes like gender, critical race theory and sexuality. Lawn Boy was one of many to appear on 'banned books' lists.
Dad has mic cut at school board meeting for 'pornography' reading
Lawn boy was one of two books returned to library shelves in Virginia in November 2021 after removal following complaints by parents.
The other was Gender Queer: A Memoir, which includes photos of sexual activity between a boy and a man.
Fairfax County Public Schools leaders pulled the books for a formal review prompted by complaints that they contained obscene sexual material.
But committees of administrators, librarians, parents and students who reviewed both determined them to be appropriate for high school readers.
Last year, a father in Florida highlighted three books that were on the shelves of school libraries which he said were inappropriate, including Alice Sebold's 1999 memoir 'Lucky,' which documents her rape as a college freshman and how it affected her.
The other two were 'A Court of Silver Flames' by Sarah J. Maas and 'Triangles' by Ellen Hopkins.
'A Court of Silver Flames' is a fantasy novel while 'Triangles' is about three different middle-aged women navigating their love lives.
All three books contain graphic details of sexual encounters that vary in nature. Bruce Friedman, president of the Florida chapter of No Left Turn in Education, complained about the books.
Written by Lewis Pennock for The Daily Mail ~ January 5, 2023
FAIR USE NOTICE: This site contains copyrighted material the use of which has not always been specifically authorized by the copyright owner. We are making such material available in our efforts to advance understanding of environmental, political, human rights, economic, democracy, scientific, and social justice issues, etc. We believe this constitutes a 'fair use' of any such copyrighted material as provided for in section 107 of the US Copyright Law. In accordance with Title 17 U. S. C. Section 107, the material on this site is distributed without profit to those who have expressed a prior interest in receiving the included information for research and educational purposes. For more information go to:

http://www.law.cornell.edu/uscode/17/107.shtml