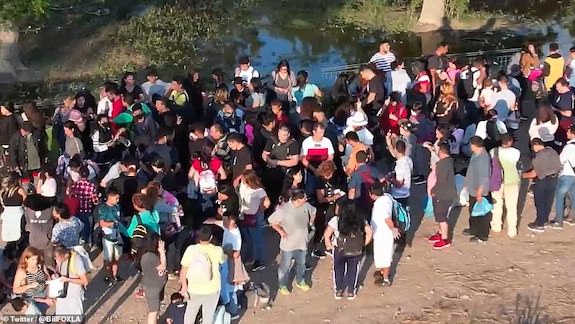 So far, Joe Biden's presidency has been a disaster for the United States. Republicans are sounding the alarm to prevent him from doing any more damage.
And now Greg Abbott has sent Joe Biden an order that has thrown the White House into total panic.
Since the Midterm elections, Democrats are pushing the narrative that the American people have given them the mandate to lead.
They think losing the House of Representatives gives them the go-ahead to keep ramming their radical agenda down the throats of the everyday Americans.
Rather than fix inflation and seal up the border from incoming illegal immigrants, Joe Biden and the Democrats are more focused on child sex changes and abortion-on-demand through all nine months of pregnancy.
It's gotten so bad that Republican governors are now taking matters into their own hands.
Recently,Texas Governor Greg Abbott announced that he invoked the Invasion Clauses of the U.S. and Texas Constitutions to address President Joe Biden's border crisis.
The announcement comes on the heels of a report from the Department of Homeland Security showing nearly 2.4 million illegal immigrants were detained at the southern border in the 2022 Fiscal Year.
"I invoked the Invasion Clauses of the U.S. & Texas Constitutions to fully authorize Texas to take unprecedented measures to defend our state against an invasion," Abbott said.
"I'm using that constitutional authority, & other authorization & Executive Orders to keep our state & country safe."
Abbott announced the following steps that Texas would take to address the issue:
* Deploy the National Guard to safeguard the border, and to repel and turn back immigrants trying to cross the border illegally;
* Deploy the Texas Dept. of Public Safety (DPS) to arrest and return immigrants to the border who crossed illegally, and to arrest illegal immigrants for criminal activity;
* Build a wall in multiple counties on the border;
* Deploy gun boats;
* Designate Mexican drug cartels as foreign terrorist organizations;
* Enter into a compact with other states to secure the border;
* Enter into agreements with foreign powers to enhance border security;
* Provide resources for border counties to increase their efforts to respond to the "border invasion."
Abbott's strong record on immigration is a big reason why he easily defeated his opponent "Beto" O'Rourke by 11 points in last week's election.
"I ran this campaign for the Texans who want safer streets," Abbott said after his victory. "For the homeowners burdened with skyrocketing property taxes. For the oil field workers who begged me to protect their livelihoods. For parents who want to choose the school that's best for their child. For the ranchers and residents who pleaded for a secure border."
"Texas must continue our unprecedented efforts to secure our border," he added.
"Tonight Texans are sending a resounding message that we want to keep Texas the beacon of opportunity that we have provided for the past eight years."
Written for The Daily Journal ~ December 24, 2022
FAIR USE NOTICE: This site contains copyrighted material the use of which has not always been specifically authorized by the copyright owner. We are making such material available in our efforts to advance understanding of environmental, political, human rights, economic, democracy, scientific, and social justice issues, etc. We believe this constitutes a 'fair use' of any such copyrighted material as provided for in section 107 of the US Copyright Law. In accordance with Title 17 U. S. C. Section 107, the material on this site is distributed without profit to those who have expressed a prior interest in receiving the included information for research and educational purposes. For more information go to:

http://www.law.cornell.edu/uscode/17/107.shtml