A few quick thoughts on the Roe decision…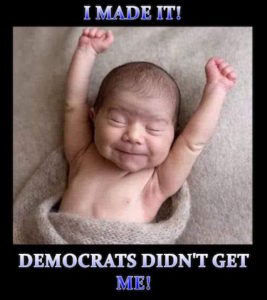 I knew, from the moment that internal memo from the SCOTUS was leaked, that they were going to overturn Roe v Wade. I also knew that the leaking of that memo was not accidental; it was designed to do exactly what it did; get people worked up over it before it even happened. Nothing in politics/government happens without a reason; it happens either to further a political agenda or to distract people from something else that is going on; but it is never just an accident.
From the protests outside the Supreme Court to the timelines on Facebook, the decision to overturn the Roe decision has had the desired effect; people are busy taking sides, arguing their positions; often without even knowing, or discussing, what actually happened.
First of all, the decision to overturn Roe did not ban abortions; it merely returned the subject to the purview of the states; where it rightfully belongs. I haven't read the Court's decision yet, but I will when I can find a copy of it. I wonder how many of those protesting for or against their decision will do the same, or are they going to go on arguing amongst one another from a position of ignorance?
Before the Constitution was ratified, a heated debate took place between those who supported ratification, and those who opposed it. Among those who supported ratification were 3 men who wrote a series of essays under the pseudonym of Publius. You may recognize these essays by the title; The Federalist Papers. I would like to discus something James Madison said in the forty-fifth of these essays.
The first thing of interest is that Madison states, "The powers delegated by the proposed Constitution to the federal government are few and defined." Does that mean anything at all to you; does the word 'define' mean anything to you? The definition for the word define states that it means: to make distinct, clear, or detailed especially in outline.
What Madison is, therefore, saying is that, whatever powers the federal government is to exercise can be found specifically enumerated (listed) somewhere within the Constitution. Either Madison was lying, or government has overstepped its authority in almost everything it has done since its inception. But, seeing as how this is a discussion of the Courts decision to overturn Roe; there is nothing in the Constitution that authorizes the federal government to legislate upon health care choices for the people; including abortion.
So, technically, the SCOTUS was fixing an error, a mistake that a previous session of the Court had made when they handed down their decision in Roe v Wade. Putting my own personal thoughts on abortion aside for a moment, this was a clear example of the Court getting it right; although I will have to read their decision to glean the full import of what they did.
The next thing that Madison said in Federalist 45 is, "Those [the powers] which are to remain in the State governments are numerous and indefinite." Again, this only goes towards supporting my belief that the SCOTUS did the right thing; for the right to decide health care issues does not belong to the federal government, it belongs to the State Governments.
That is reinforced by the remainder of Madison's quote, "The former will be exercised principally on external objects, as war, peace, negotiation, and foreign commerce; with which last the power of taxation will, for the most part, be connected. The powers reserved to the several States will extend to all the objects which, in the ordinary course of affairs, concern the lives, liberties, and properties of the people, and the internal order, improvement, and prosperity of the State."
Therefore, from a purely constitutional standpoint, what the Supreme Court did was in accordance with the letter and spirit of the Constitution. They did not ban abortion, they merely took the federal government out of the matter entirely; giving the decision to allow, or ban abortion, back to the States…where it rightfully belongs.
Those are my thoughts on what the Supreme Court just did, but I would urge people to pay close attention to whatever else may be happening; this decision may be a smokescreen to hide something more sinister; something they wish to accomplish while the people are arguing amongst one another over the Court's decision on Roe. The rest of this essay will be devoted to my personal thoughts on abortion.
As I expected, as soon as news of the Court's decision to overturn Roe got out, Facebook began to be flooded with memes; both supporting and opposing the decision. Most of these memes that opposed the Court's decision centered around a woman's right to make health care choices for herself.
I'm going to be as blunt as I can about this; I find that to be both selfish and uninformed. Regardless of what you may think, that embryo, or fetus, that you are talking about aborting is a human life; who speaks for its rights? Does it not have a say in whether it should be allowed to be born, or is it okay to end that life (murder that fetus) before it is allowed to take its first breath of air outside the womb?
If you support a woman's right to choose, at least be honest about what it is you support; don't sugar coat it by calling it an abortion; call it what it is – the decision to murder an unborn child.
Yet there was one meme that I was repeatedly, that really got my juices flowing; not in a good way either. I don't know who created this meme, or how many times it was shared, but it stated, "If every time men had sex they risked death, physical disability, social shunning, a life altering interruption of their education or career, and the sudden life-long responsibility for another being, I think they'd want a choice in the matter."
I'm sorry, but boo-hoo! I am 100% opposed to abortion; I believe it is a politically correct term for the murder of an unborn child. There are, however, instances where an argument could be made in support of it being an option. I'm not saying I would agree with that option, only that an argument could be made to support abortion as an option; if certain conditions were met.
NOTE: The author has been in a back and forth argument with a self-centered individual – and Neal has shared this with our readers:
The woman who inspired this by posting that meme is arguing with me on Fakebook. She keeps going on and on about her autonomy, but then her memes are saying that society should pay for delivery costs, pay for babysitting, pay for formula and diapers. She refuses to address the subjects of consequences and responsibility.
She also refused to answer my question of: Does not that fetus have rights, the autonomy to decide whether it wants to be born? I told her she is selfish, and she said there ain't nothing some 'old white guy' can say to change her opinion. ~ Ross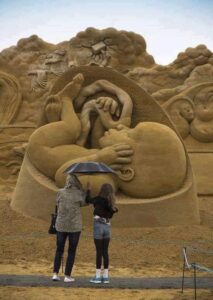 If carrying that child to term and delivering it could be proven as a clear threat to the life of the mother, then the argument could be made that abortion is an option. If the pregnancy occurred due to rape or incest; that too could provide some justification for aborting that fetus; although you would still be ending a life merely out of something I wish to go into in a bit more detail – inconvenience.
The rest of that meme, the one that got me so upset, stated, "…social shunning, a life altering interruption of their education or career, and the sudden life-long responsibility for another being…" Those are not medically justifiable reasons to end a human life, they are inconveniences that the pregnancy imposes upon the woman carrying that child.
I know I'm gonna anger a lot of people now, but I don't care; if you did not want to be inconvenienced by a pregnancy, maybe you should have taken steps to avoid getting pregnant, or avoided having sex until you were ready to care for the life you might create by having sex.
But Neal, people have the right to have sex. I'm not going to deny that, but the Declaration of Independence tells us that one of the rights government is instituted to secure is the right to life; and that fetus IS A LIFE! Besides, there is something people conveniently seem to ignore – the exercising of your rights carry with them the obligation to accept the consequences of exercising those rights.
Wade in the Water, Wade in the Water…
If you wish to have sex, especially unprotected sex, then pregnancy is a possible consequence of that decision… ACCEPT IT OR DO NOT HAVE SEX!
Saying that an unwanted pregnancy might cause a woman to put her life, her career, her education on hold, is pure selfishness and a total disregard for accepting responsibility for the choices she makes. I'm not saying women are alone in this; it takes male sperm to fertilize that ovum; so, the man should be held responsible for the life he helps create. I'm only saying that, simply because creating that life is an inconvenience does not justify ending that life.
One final thing and then I'll get out of your hair. If this is all about an individual's right to make medical decisions for themselves, and not be chastised or shunned due to them, they why are those who refused to take the Covid vaccine shunned, and denied certain rights? There are some things that the unvaccinated cannot do; simply because of a medical choice they made. Some concert venues will not allow you to enter if you are unvaccinated. You cannot fly to some countries if you are unvaccinated.
And don't tell me it's about the public health and safety; I don't want to hear it! If it is about the public safety, then you can go screw yourself, and your abortion rights. The health and safety of that fetus deserves the same concern as does the public safety in regards to Covid; thereby ending your argument in support of the right to abort it!
Merrily, Merrily, Merrily, Merrily – Life is but a dream!
June 25, 2022
~ The Author ~
Neal Ross, Student of history, politics, patriot and staunch supporter of the 2nd Amendment. Send all comments to: bonsai@syix.com. Life continues to expand for this prolific writer and guardian of TRUE American history.