…and do you actually believe that the numbers have gone down?
The illegal immigrant population is as high as 29.5 million, far more than the 11 million accepted by experts and the government, according to an explosive new report from three Yale University experts.
"Our results lead us to the conclusion that the widely accepted estimate of 11.3 million undocumented immigrants in the United States is too small. Our model estimates indicate that the true number is likely to be larger, with an estimated 95 percent probability interval ranging from 16.2 to 29.5 million undocumented immigrants," said their report published by PLOS One, an academic journal.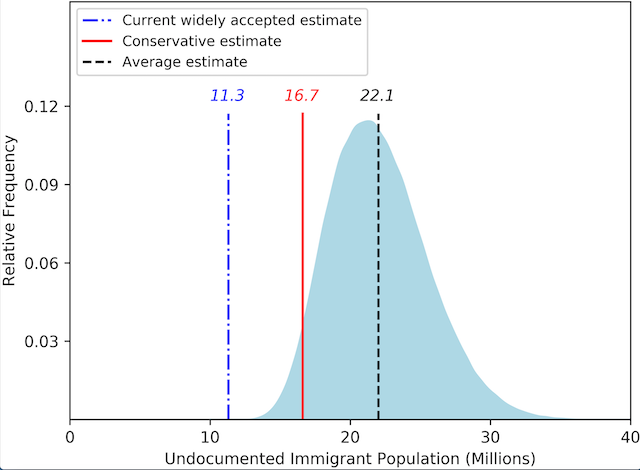 The authors from Yale School of Management, Mohammad M. Fazel-Zarandi, Jonathan S. Feinstein, Edward H. Kaplan, said the average in their new model is about 22 million, exactly twice the number accepted by the Census Bureau and other experts.
"The mean estimate based on our simulation analysis is 22.1 million, essentially double the current widely accepted estimate," they wrote.
The estimate considers the flow of illegals differently than other models.
The report, however, was assailed by the Center for Immigration Studies that has long surveyed the population of illegal immigrants and is a proponent of curbing it.
Steven Camarota, the Center's director of research, issued a statement rejecting the Yale numbers.
"The findings are unsupportable. Accepting that there are 22 million illegal immigrants in the U.S. also requires accepting that every Census Bureau survey missed huge numbers of people and that most administrative data from the federal government is woefully incomplete. There is no body of research that corroborates such a claim," he wrote.
The new report is sure to heat up the debate in Washington over the illegal immigrant population and the costs associated with housing and caring for them.
It comes as the administration is trying to build the southern border wall, cut back on asylum entries and bar immigrants who can't prove that they won't end up on welfare.
Written by Paul Bedard for The Washington Examiner ~ September 23, 2018