"Mexico is doing NOTHING to help stop the flow of illegal immigrants to our country."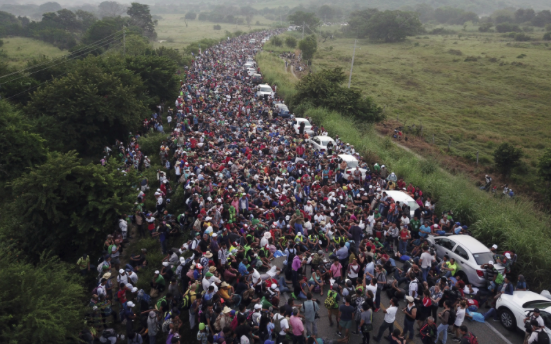 An immigration enforcement advocacy organization agrees with the Trump administration that the southern border is out of control.
Recently, President Donald Trump took to social media threatening to close the southern border.
"Mexico is doing NOTHING to help stop the flow of illegal immigrants to our country," Trump tweeted. "They are all talk and no action. Likewise, Honduras, Guatemala and El Salvador have taken our money for years, and do Nothing. The Dems don't care – such BAD laws. May close the Southern Border!"
The president's tweets came after the commissioner of U.S. Customs and Border Protection said that the border is at its breaking point – with not enough agents to respond to the unprecedented humanitarian and border security crisis.
Federation for American Immigration Reform spokesman Dave Ray insists there is simply not enough manpower and funding to handle the border crisis. "The border is completely out of control," Ray laments.
He went on to explain how the left has skirted the issue while blaming Trump for blowing things out of proportion.
"Democrats say the crisis is all a figment of President Trump's imagination, but, unfortunately, the numbers tell a different story," Ray says. "We could see 100,000 apprehensions this month – possibly a million apprehensions this year."
A major problem from Southern California to South Texas is that federal agents are spread too thin to handle the barrage of immigrants from the south.
"The border … [is] beyond the capacity of the Border Patrol to contain it," Ray adds "…and it's truly a national security and humanitarian crisis unfolding before our very eyes."
In a previous OneNewsNow report, the immigration expert lamented the fact that 2.5 illegal aliens who either got their deportation papers or are awaiting them are hiding from government detection.
"Then they disappear into the interior of the U.S.," he explained earlier this week.
Ray points out that Congress has been unwilling to fix the problem by changing U.S. asylum laws that encourage people to come to the U.S.
Written by Chad Groening for One News NOW ~ April 1, 2019
FAIR USE NOTICE: This site contains copyrighted material the use of which has not always been specifically authorized by the copyright owner. We are making such material available in our efforts to advance understanding of environmental, political, human rights, economic, democracy, scientific, and social justice issues, etc. We believe this constitutes a 'fair use' of any such copyrighted material as provided for in section 107 of the US Copyright Law. In accordance with Title 17 U. S. C. Section 107, the material on this site is distributed without profit to those who have expressed a prior interest in receiving the included information for research and educational purposes. For more information go to:

http://www.law.cornell.edu/uscode/17/107.shtml