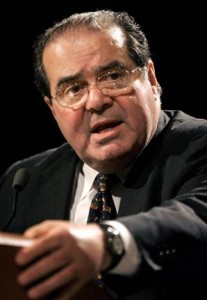 Associate Justice Antonin Scalia was found dead of apparent natural causes Saturday on a luxury resort in West Texas, federal officials said.
Scalia, 79, was a guest at the Cibolo Creek Ranch, a resort in the Big Bend region south of Marfa.
According to a report, Scalia arrived at the ranch on Friday and attended a private party with about 40 people. When he did not appear for breakfast, a person associated with the ranch went to his room and found a body.
And so now the battles begin, and the RepublicRATS in Washington DeCeipt had better be on their guard. Let's be honest – we already have three left-leaning women serving in the United States Supreme Court; Clarence Thomas who is still looking for pubic hair on a coke can; and John Roberts – who sold out to the Obama Administration (on ObamaCare) the minute he read letters to the Editor of the New York Times that swayed his vote.
So that cares for six who "serve." I don't know enough about the rest of them to be able to make a determined assessment – but we are in trouble.
Who will be chosen? Eric Holder? He's making too much money in the private sector now. Obama can't nominate himself (although Biden might like that). We could have an open gay nominated, but I suspect that there might already be some LBGT types up there already – besides – they already crammed deviancy up our wazoos anyway. HEY – about one of B.O.'s Muslim buddies to the Supreme Court.
YUP – that would just about guarantee Sharia Law in this nation.
We are doomed.
Rest in Peace Justice Scalia. Have a glass of Chianti on us. You will be missed.
Without Apology I am,